FOR IMMEDIATE RELEASE
DEBUT AUTHOR BETH ALBRIGHT TAKES READERS ALONG FOR
SOME SEXY SOUTHERN FUN WITH A HINT OF MAGNOLIA
THE SASSY BELLES
June 2013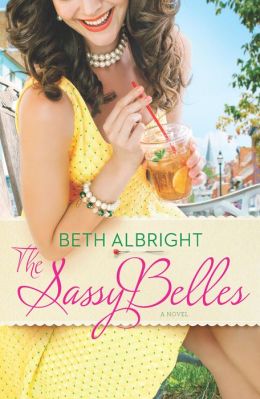 Meet the Sassy Belles—five charming women from Tuscaloosa, Alabama, who are as strong as a mint julep, sweet as peach cobbler, and who stick together, no matter what. THE SASSY BELLES (Harlequin MIRA, June 2013, $14.95 U.S./$17.95 CAN.) is the first book in a laugh-out-loud series from debut author and former
Days of Our Lives
actress Beth Albright.
There are only two seasons in Tuscaloosa—football and waiting-for-football. When Lewis Heart, football announcer and voice of the Crimson Tide, vanishes after an impromptu romp with Vivi Ann McFadden at the Fountain Mist Motel, Vivi does what any Southern woman would do: call her best friend, Blake O'Hara Heart, attorney-at-law.
With the town gossip swirling around them, Vivi and Blake are determined to find out what happened to Lewis and clear Vivi's reputation. Because after all, men may come and go, but the Sassy Belles are forever.
Not since
Steel Magnolias
have we fallen in love with such sexy, strong and hilarious Southern women. So grab your best girlfriends and join these Belles on the first of many joyrides through the Deep South.
THE SASSY BELLES is available wherever books are sold and at
www.Harlequin.com
.
THE SASSY BELLES
BETH ALBRIGHT
$14.95 U.S./$17.95 CAN.
ISBN-13: 978-0-7783-1528-5
BETH ALBRIGHT
Photo Credit: Brant Brogan
After knowing Beth Albright for just a few short seconds you are sure to learn she is from Alabama. No, it's not the lilt of magnolia you can still catch in her voice, or even the way she lovingly describes her undying love for her famous alma mater's football champions. She will tell you she loves Tuscaloosa, even after living quite literally all over the country. Though Beth has had a remarkable career, from New York City to Hollywood and all points in between, she has never forgotten where she came from...and what she loves. That's why when it came time to write, Beth had no choice but to write about Tuscaloosa and the University of Alabama and all the quirky people she still calls family, though some do not actually share her bloodline.
Beth Albright has always been a storyteller. After spending nearly 15 years in talk radio as a talk-show host, playing the part of a principal character on the soap opera Days of Our Lives, owning her own acting school and children's theater and raising a son who was a nationally ranked figure skater, Beth has decided to return to her roots—storytelling.
When she was in the sixth grade, her teacher gave her the floor every Friday to tell her stories. See, Beth was a talker, a future talk-show host in the making and she was telling stories so much that her teacher couldn't teach. The teacher told 12-year-old Beth if she would begin writing her stories down, she would be allowed time to share those stories with the class. And she's been writing, and talking ever since. Beth has interviewed Bob Hope, Oprah Winfrey, Betty White, Wolfgang Puck and George Burns live from the Chinese Theatre, as well as numerous other celebrities and authors. Then Beth became a principal character on Days of Our Lives. But through all of the excitement of talk shows and soap operas, Beth loved telling stories to her audience the most. With a degree in journalism from her beloved University of Alabama, she remains true to her roots and has never forgotten where she comes from. Born and raised in Tuscaloosa ("My grandfather was the play-by-play announcer for the Crimson Tide in the 50s!" Beth will proudly tell you), she is a down-home girl, although she currently lives in San Francisco with her TV producer husband and her brilliant son. But her heart is always in Alabama. She has just completed a new series, The Sassy Belles.